Phone Screens
Cash
Price
Glass Screen Protector
$10
Privacy Screen Protector
$15
iPhone 5C, 5
$30
iPhone 5S, 5SE
$40
iPhone 6, 6+
$50
iPhone 6S, 6S+
$60
iPhone 7, 7+
$70
iPhone 8, 8+, 8SE
$80
iPhone XR
$90
iPhone X, XS
$110
iPhone XS Max
$110
iPhone 11
$100
iPhone 11 Pro
$120
iPhone 11 Pro Max
$130
iPhone 12 Mini
$110
iPhone 12, 12 Pro
$110
iPhone 12 Pro Max
$120
iPhone 13
$180
iPhone 13 Pro
Call
iPhone 13 Pro Max
Call
All Other Phones
Call
Back Glass Replacement
Call
iWatch
Call
iPad
Call
Key Fob
Call



We offer limited lifetime warranties on all
of our iPhone and Samsung screen replacements.
We use only premium parts for all replacements.
We program our iPhone Screens so you won't lose
features, unlike many of our local competitiors.
We offer a ton of repairs not listed here.
Please call if you have any questions.




Console Repair
Cash Price
HDMI Ports
Call
Charge Ports
Call
Overheating
Call
Other
Call


Board Level Repairs
Cash
Price
Soldering
Call
Water Damage
Call


Tablet Repairs
Cash Price
Glass Replacement
Call
Display Replacement
Call
Battery Replacement
Call
Charge Port Replacement
Call
Other
Call


Computer Repair
Cash Price
Virus Removal
$80
OS Install
$80
Clone
$80
Password Reset
$50
LCDs
Call
TouchScreens
Call
Laptop Battery
Call
Other Repairs
Call


Data Recovery
Cash Price
Hard Drives
$80+
Flash Drives
$80+
iPhones
$80+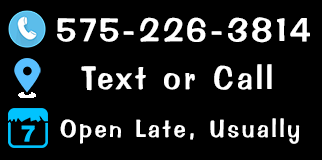 We aim for 1 hour or less repair times on phones.
We stand behind everything we do. So let us know
what we can do to make sure you have the best
repair experience you have ever had!